Stacking the Shelves is all about the books we are adding to our shelves, physical or virtual, and sharing our excitement about our new titles. And why not, maybe also finding a great new read in the process! This weekly meme is hosted by Tynga's Reviews.

Goodbye April, hello May! I'm really amazed at how quickly another month has gone by, but I am kind of happy that May is here, since it actually brings me high hopes for some nice weather! My plans to catch up on some reading in this past week have miserably failed, since it's been even more intense than I expected. For the first time this year, I haven't managed to finish a single book during the whole week! I'm hoping to have some more time this week, but after looking at my schedule for the week, I'm not all that confident this will happen… But no more gloom, and onto the new books!
This week I got…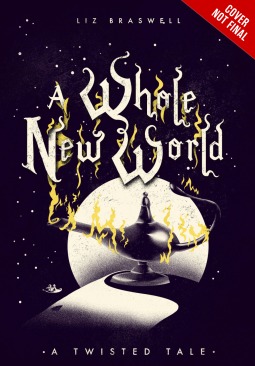 The Girl Who Saved the King of Sweden by Jonas Jonasson – I read Jonasson's other book, The Hundred-Year-Old Man Who Climbed Out of the Window and Disappeared, last year and I LOVED it immensely. So, when I saw that my library had bought a copy of this novel, I immediately checked it out.
The Storied Life of A. J. Fikry by Gabrielle Zevin – I heard so many good things about this book, I became very, very curious about it. While at the library, this also, very casually fell in my hand and got checked out.
A Whole New World by Liz Braswell – THIS BOOK! Basically, this is the first in a new series that reimagines Disney stories, asking what would have happened if a key event had happened differently. Can you imagine? A Disney retelling??!! I am beyond excited about this, so please bear with me while I squeal in delight. Massive thanks to the publisher and NetGalley for this, I can't wait to get started!
That's all for me! How was your week? Link up in the comments!