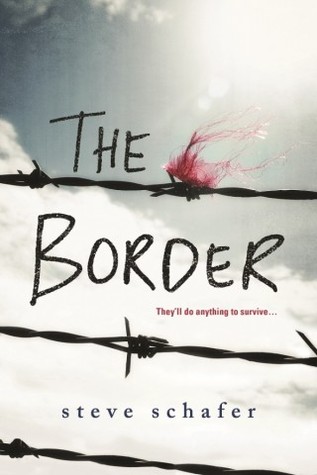 I received an e-arc of this book from the publisher via NetGalley in exchange for my honest review. This did not affect my opinion of the book in any way.
Summary
One moment changed their lives forever.
A band plays, glasses clink, and four teens sneak into the Mexican desert, the hum of celebration receding behind them.
Crack. Crack. Crack.
Not fireworks – gunshots. The music stops. And Pato, Arbo, Marcos, and Gladys are powerless as the lives they once knew are taken from them.
Then they are seen by the gunmen. They run. Except they have nowhere to go. The narcos responsible for their families' murders have put out a reward for the teens' capture. Staying in Mexico is certain death, but attempting to cross the border through an unforgiving desert may be as deadly as the secrets they are trying to escape…
My Thoughts…
This was a very original book indeed, like nothing I had read before. The author takes a well-known phenomenon (the crossings of Mexicans into the US) and takes us on a journey through hell. What makes it even more compelling is the fact that the people embarking on this journey are teenagers with no one left to care for them. This is certainly a lesser known, but definitely a key phenomenon in migration flows today.
The key question our protagonists are faced with at the beginning of the story is one no person should ever have to face. What do you do when leaving in search of a better life might mean never making it to the other side, but staying means certain death? This is the question Pato, Arbo, Marcos and Gladys, four ordinary teenagers, must answer quickly, after the party of the year ends in tragedy. And so they embark on what may very well be the last journey of their lives, following in the footsteps of so many before them… and with the narcos hot on their trail. Because a slight chance of making it is better than the certainty of dying.
I found the book to be very well written: there were moments throughout when I was really holding my breath. Throughout their journey, the four are faced with a myriad of obstacles, and I was left wondering up until the very end whether they would make it or not. I liked the freshness and honesty in the description of the characters, even though that meant I ended up not liking all of them equally. We see everything through Pato's eyes, as a clueless teenager having to deal with something so much bigger than him, and I enjoyed it greatly. We feel his fears and doubts, and are part of the growing process that he forcibly goes through to survive. The other characters, however, fall short by comparison. They feel like "types" more than actual people and that is a real shame because of the potential they showed at the beginning. I also wasn't a fan of the romance: I could predict something along those lines would happen, but it seemed to come out of nowhere. For a book that was trying (and succeeding!) in being original and unconventional, to fall into the trap of mandatory YA romance was slightly disappointing.
Overall, a solid read which will definitely appeal more to its intended audience than to me and does a great job of raising awareness while entertaining.
Rating: 3.5/5