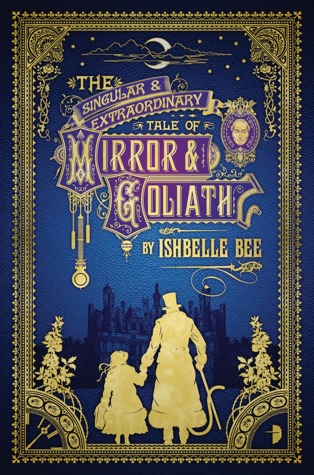 I received an e-arc of this book from the publisher via NetGalley in exchange for my honest review. This did not affect my opinion of the book in any way.
Publisher:
Angry Robot
Pages: 336
Series: The Peculiar Adventures of John Loveheart, Esq #1
Challenges: Women's Challenge; Around the World Challenge
Summary
1888. A little girl called Mirror and her shape-shifting guardian Goliath Honeyflower are washed up on the shores of Victorian England. Something has been wrong with Mirror since the day her grandfather locked her inside a mysterious clock that was painted all over with ladybirds. Mirror does not know what she is, but she knows she is no longer human. John Loveheart, meanwhile, was not born wicked. But after the sinister death of his parents, he was taken by Mr Fingers, the demon lord of the Underworld. Some say he is mad. John would be inclined to agree. Now Mr. Fingers is determined to find the little girl called Mirror, whose flesh he intends to eat, and whose soul is the key to his eternal reign. And John Loveheart had been called by his otherworldly father to help him track Mirror down…
My Thoughts…
This was a very peculiar read, and even several hours after finishing it, I am not entirely sure of how I feel about it. I'll try to give some sense to what I say here, but please forgive me if (as is very likely) I should fail miserably. Because summing up my thoughts on this book is by no means easy. Although one thing is clear: I am IN LOVE WITH THAT COVER! It is just so gorgeous! *takes several minutes to stare at the beautiful cover* Ok, now that that's out of my system, let's move on to more serious considerations…
I'll start by saying that I found this incredibly original, both in terms of story and writing style. I really liked the prose, and at times it sounded almost poetic. I am not much of a fan of descriptive scenes, but here I thoroughly enjoyed all of them. In fact, I might even go as far as saying that the writing was my favourite part of the book. There, I said it. As far as the story goes, the basic plot is pretty straightforward, but a lot of complications and sub-plots ensue that complicate matters enormously and made it a just a little to easy to lose track of the main plot.
This is not helped by the fact that the book is narrated in multiple POVs, with several different characters taking turns in narrating their own story. While it all fitted together in the end, I did have some trouble keeping up with them throughout and that made me enjoy the story overall just a little bit less. But that's definitely a case of "it's not you, it's me", and if you like multiple POVs, you're probably going to enjoy this a lot.
As for the characters, I loved how weird and quirky they all were! Unfortunately though, because of the constant switching in narration, I found it hard to really connect with any one character, and I never really felt like I had gotten to know them to a good extent. Nonetheless, I still liked reading about them, in all their uniqueness. And I was really happy with the endings all of them got, which doesn't happen often for me!
Overall, this was an enjoyable read, perfect for someone looking for a highly original and unique story. It reminded me of Alice in Wonderland in some ways, only much darker. If you like supernatural adult books, then you should definitely give this a try!
Rating: 3.5/5
The Singular & Extraordinary Tale of Mirror & Goliath releases today, June 2nd!