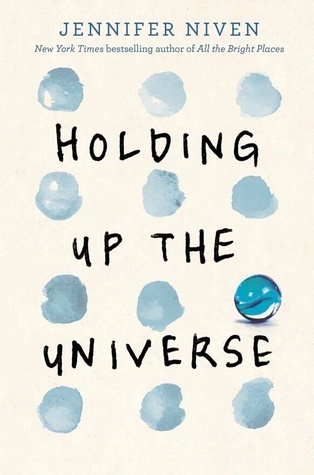 I received an e-arc of this book from the publisher via NetGalley in exchange for my honest review. This did not affect my opinion of the book in any way.
Summary
Everyone thinks they know Libby Strout, the girl once dubbed "America's Fattest Teen". But no one's taken the time to look past her weight to get to know who she really is. Following her mom's death, she's been picking up the pieces in the privacy of her home, dealing with her heartbroken father and her own grief. Now, Libby's ready: for high school, for new friends, for love, and for every possibility life has to offer. In that moment, I know the part I want to play here at MVB High. I want to be the girl who can do anything.
Everyone thinks they know Jack Masselin, too. Yes, he's got swagger, but he's also mastered the impossible art of giving people what they want, of fitting in. What no one knows is that Jack has a newly acquired secret: he can't recognize faces. Even his own brothers are strangers to him. He's the guy who can re-engineer and rebuild anything, but he can't understand what's going on with the inner workings of his brain. So he tells himself to play it cool: Be charming. Be hilarious. Don't get too close to anyone.
Until he meets Libby. When the two get tangled up in a cruel high school game – which lands them in group counseling and community service – Libby and Jack are both pissed, and then surprised. Because the more time they spend together, the less alone they feel. Because sometimes when you meet someone, it changes the world, theirs and yours.
My Thoughts…
Well, I honestly don't know how to coherently express my feelings for this book… So please bear with me while I try to make some order in mind.
Let's start easy: the writing. I can honestly say I LOVE Jennifer Niven's writing style! The words flowed so easily, I was actually glued to the pages, and kept wanting more and more and more and… you get the point. I never seemed quite entirely capable of putting this book down of my own will, and I would have happily kept going non-stop, if it weren't for small, unimportant things like going to work, eating or sleeping getting in my way. Also, it never felt forced. I don't know if you can relate to this, but sometimes I find authors just try too much, especially when they're trying to depict characters with uncommon characteristics or illnesses – so much so that they often end up sounding and feeling completely fake. But here, Jack, Libby and all the other minor characters felt real, as if we may just meet them on the street walking around town.
Which brings me to the characters. They were definitely one of the main selling points for me. I love reading about complex characters, people whose behaviour is never entirely predictable, and whose stories leave me with something new. These characters did that. Jack and Libby are teenagers struggling with issues bigger than them. They make mistakes, and that's ok because that's what happens when you grow up. And the issues they face, as common or uncommon as they may be, are the ones that young (and not so young) people everywhere are faced with at one point or another. I did have a few minor issues with the characters, mainly due to some incoherent behaviours (which I won't detail to avoid spoilers) and a little redundancy in emphasising Jack's condition, especially relating to his identification of family members inside his own house.
The other thing I loved about this book is that it touched on some really important issues, without ever feeling like a lecture on correct behaviour. Now, I personally didn't know much about prosopagnosia before reading this book. In fact, I'm fairly certain I never heard of it before, so I can honestly say I was fairly shocked to find out that there are people who suffer from this, and even more to discover they are many more than I would have thought. This book opened my eyes on a condition I knew nothing about and made me learn something entirely new about the word we live in, which to me is a fantastic thing.
One issue I did know about prior to reading this book is bullying. Sadly, this is something that touches a huge number of people worldwide and an issue that is too often overlooked. Linked to this is, of course, the other main theme in the book: body shaming. I love the fact that the author decided to tackle these two issues together, because they are in fact often linked in real life too. And I absolutely adored how Jennifer Niven filled this book with messages about self-worth and acceptance of "the other".
True, the world is a difficult place to be in. Also true, life often throws you a blow that could keep you down forever, be it a disease or the loss of a loved one or something else entirely. But you don't have to let the bad moments win. You can always fight back, just like Libby does so wonderfully. And no matter how many mean, horrible people you find along your path, there will always be people you love you and accept you for who you are. No matter how many try to bring you down, there will always be someone, somewhere who is rooting for you. And no matter how lonely you feel today, you are not alone. You are wanted, just the way you are. And this, the hope and the humanity, is the best thing about this book.
Rating: 4.5/5