I received an e-arc of this book from the publisher via NetGalley in exchange for my honest review. This did not affect my opinion of the book in any way.
Summary
What if the sleeping beauty never woke up? Once Upon a Dream marks the second book in a new YA line that reimagines classic Disney stories in surprising new ways.
It should be simple–a dragon defeated, a slumbering maiden, a prince poised to wake her. But when said prince falls asleep as soon as his lips meet the princess's, it is clear that this fairy tale is far from over. With a desperate fairy's last curse infiltrating her mind, Princess Aurora will have to navigate a dangerous and magical landscape deep in the depths of her dreams. Soon she stumbles upon Phillip, a charming prince eager to join her quest. But with Maleficent's agents following her every move, Aurora struggles to discover who her true allies are, and moreover who she truly is. Time is running out. Will the sleeping beauty be able to wake herself up?
My Thoughts…
I approached this book with incredibly low expectations. After reading book 1 in the series, A Whole New World, I actually thought I wouldn't even give this a try. But then curiosity won me over, and I decided to see if this Sleeping Beauty retelling could be any better than the Aladdin one. And, surprisingly, it was!
For starters, this time round the book didn't just copy-paste the original film dialogue, which was one of the main issues in the first one. The story actually kicks off right towards the end of the original film, right around the time when Aurora should wake up from eternal slumber, along with everyone else in the castle… except she doesn't.
This is the beginning of the actual reimagining of the fairy tale, which I have to say, was actually quite original. I particularly enjoyed the personal growth that Aurora undertook throughout the book. Now, apart from her beauty and kindness, Aurora never did display a lot of other qualities in the original film: true, she is entirely a product of her time, but she essentially just passively accepts whatever other people decide for her and waits for the dashing prince to save her. And that is just plain annoying.
In the book, Aurora didn't start out too great. For more or less the first half of the book, her main feature was the ability to whine and cry a lot. I don't like to repeat myself, but she was really annoying. And then, just when I was losing all hope, she changed! After venturing outside the castle where she was trapped and meeting Phillip, Aurora started showing some character and working actively towards saving herself and her kingdom. While she still cannot be defined a "bad-ass" woman, she is miles ahead of her old movie self.
The most interesting character, however, is always Maleficient. One of the best villains ever, Maleficient somehow always manages to steal the scene. She is evil, ruthless and incredibly smart, coming up with unforeseeable ways to destroy her enemies.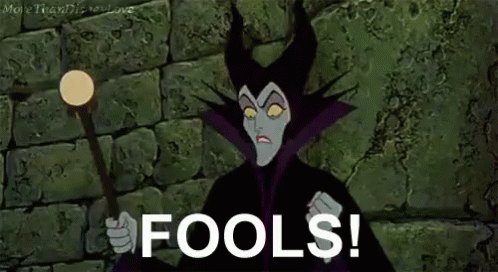 Unfortunately, she didn't get quite as much space as she would deserve. She did feature consistently throughout the book, but her character always remains at the margins, never being fully explored. Towards the end of the book, some of the biggest unanswered questions of ever are touched upon (like, why on earth would you curse a baby because her parents didn't invite you to a party???), but there is no satisfactory answer to any of them. Essentially, this was an opportunity wasted to delve deep into the mind of one of the most interesting evil characters in the history of Disney fairytales…
Overall, this book was essentially a whole lot better than its predecessor, but still left me wanting. The story is far more original than I was expecting, but the execution  comes up short, displaying underdeveloped characters coupled with a less-than-satisfactory writing style. Light read, better enjoyed if approached with low expectations.
Rating: 3/5