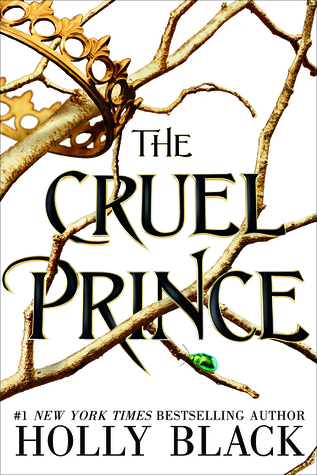 I received an e-arc of this book from the publisher via NetGalley in exchange for my honest review. This did not affect my opinion of the book in any way.
Summary
Of course I want to be like them. They're beautiful as blades forged in some divine fire. They will live forever.
And Cardan is even more beautiful than the rest. I hate him more than all the others. I hare him so much that sometimes when I look at him, I can hardly breathe.
Jude was seven years old when her parents were murdered and she and her two sisters were stolen away to live in the treacherous High Court of Faerie. Ten years later, Jude wants nothing more than to belong there, despite her mortality But many of the fey despise humans. Especially Prince Cardan, the youngest and wickedest son of the High King.
To win a place at the Court, she must defy him – and face the consequences.
In doing so, she becomes embroiled in palace intrigues and deceptions, discovering her own capacity for bloodshed. But as civil war threatens to drown the Courts of Faerie in violence, Jude will need to risk her life in a dangerous alliance to save her sisters, and Faerie itself.
My Thoughts…
So, I had heard a lot about Holly Black's books and became extremely curious. This was actually the first of her books that I got around to reading and… I loved it! Wow, I had no idea of what I was missing out on. Now, I'm not normally a big fan of faeries but as soon as I finished The Cruel Prince I wanted more! I cannot wait for the next book in the series to come out…
There were soooo many things I loved about this book. Starting small, the settings were AWESOME. The descriptions really made the location come alive, and even a faerie newbie like me managed to get a fairly accurate idea of what Faerie must have looked like. And oh, isn't it wonderful?? Sure, almost anything will end up killing you, but that's no reason not to go there, right?
The characters were so wonderfully complex, it was a true delight to read about them! I really liked Jude from early on in the book, and enjoyed seeing things from her point of view. She is a very complicated character, who's had a very complicated life: born human, she is forced to grow up in Faerie as a member of the household of her mother's first faerie husband, who is also the man who murdered her parents and a bloody general… y'know, the usual. The relationship between faeries and humans was also fascinating, and the discrimination and bullying were incredibly well-crafted and realistic.
I also loved Madoc as a character: he was clearly Bad, with a capital B (murderous kidnapping faerie, etcetera), but at the same time, I ended up really liking him, especially in his relationship with his "daughters". Cardan was also a very interesting character, and for most of the book I alternated between hating him with a passion and actually feeling for him. I can't wait to see how he will develop in the next book!
Finally, the plot was A M A Z I N G! I was continually surprised by the turn events took, and every time I thought I had figured out where we'd end up, I was deliciously proven wrong. This is a very clever and intricate book, and I am seriously looking forward to more political intrigue, plotting, spying, murders, revenge and clever ways to avoid lying in the next installment.
Rating: 5/5